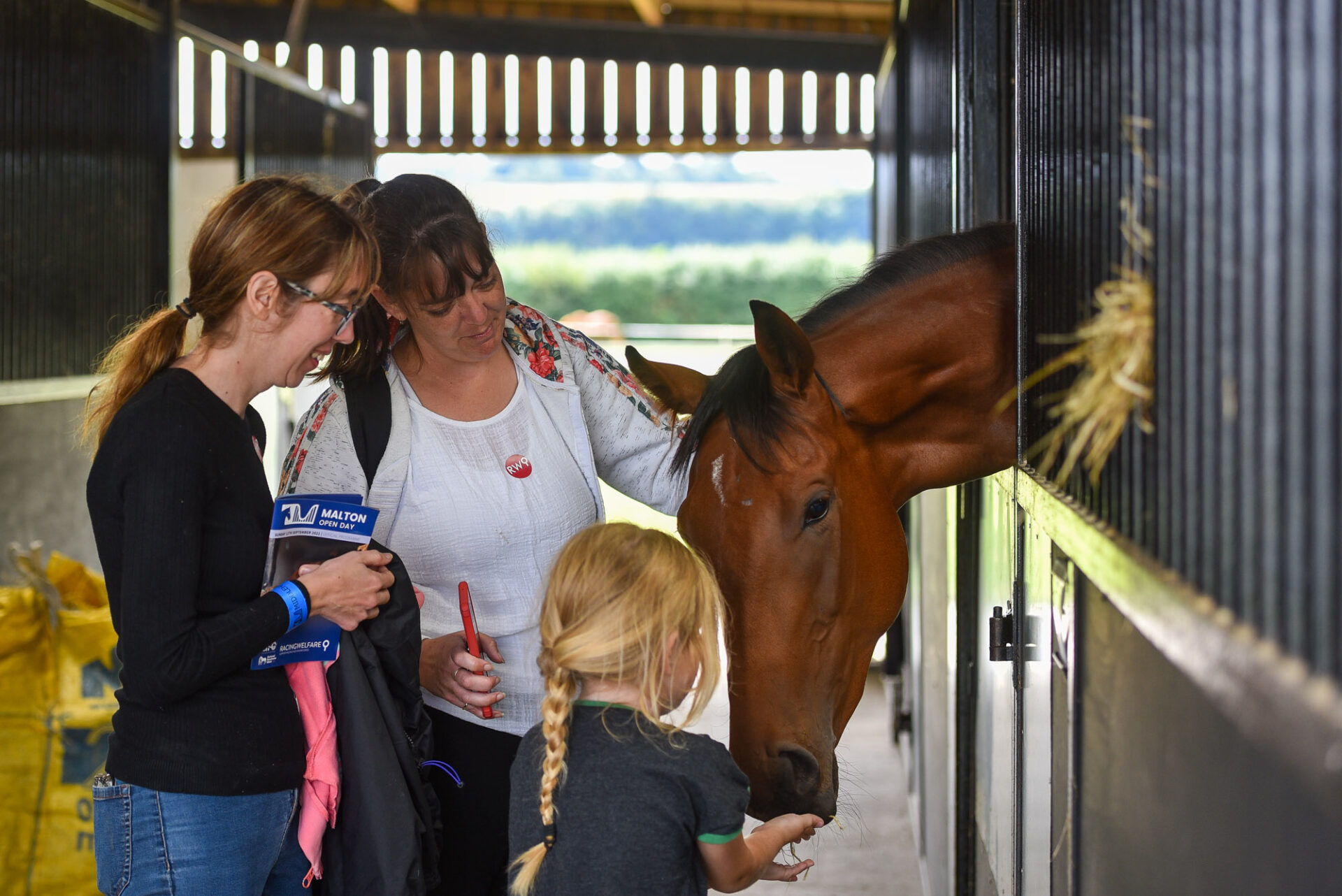 Bumper crowds flock to Malton for ARC Open Day
---
The return of the ARC Malton Open Day on Sunday 12th September saw the inaugural National Racehorse Week start with a bang. Following a year of virtual events due to the pandemic, racing fans and families alike were clearly delighted to be back at in-person events.
The ever-popular ARC Malton Open Day saw a bumper crowd of over 1,260 people enjoying some fabulous sunshine and a great buzz as they toured the yards of some of the region's best trainers. There were plenty of equine superstars on show across the 12 yards opening, including John Quinn's Royal Ascot winner Highfield Princess, Richard Fahey's Group 1 Prix Morny winner Perfect Power and Julie Camacho's fan favourite, Judicial.
Other highlights of a fantastic day included John Fairley and John Quinn giving a fascinating talk about the history of Highfield Stables, and the Advance Grass Solutions Whinny and Woof competition which saw pony club riders paired with a jockey and their dog to take on a fun jumping challenge. After some very competitive rounds, the pairing of Tilly Mason, riding Poppet, and Oakley Brown, with dog Jag, were crowned the winners.
There really was something for everyone on offer and to see the next generation of racing fans getting inspired by their interactions with the horses and staff was a real treat. At Tim Easterby's yard, children wrote good luck messages to his star filly Winter Power ahead of her racing in the Derrinstown Stud Flying Five Stakes that afternoon.
As ever, the Linton Pet Shop Dog Show was a huge success with over 200 dogs entered across the ten classes which were judged by none other than racing legend Jack Berry OBE.
Of course, it wasn't just the equine stars who were being celebrated but also the incredible racing staff who dedicate their working lives to the industry. The Racing Staff Challenge always provides brilliant entertainment and this year was no different. Despite stiff competition, the team from Jack Berry House had obviously been training hard and were rewarded with a clean sweep in all three contests – The Mcclarrons Insurance Big Relay, the Moneyweb bale roll and the White Rose Saddlery Tug of War.
Tim Fitzgerald, trainer at Norton Grange Stables and vice chairman of the Malton Open Day committee said: "I'm absolutely delighted with how it went. We had good crowds and they all seemed to enjoy themselves.
"It's good to give the public a view of behind the scenes, and also a great opportunity to get people interested in syndicate ownership. Because it's such a great day out for families, it also gives us the opportunity to get the next generation of racing fans interested. They might visit a yard and enjoy it – the next stage is going to a race meeting and listening to a band I've probably never heard of! They have a nice day and then they want to go back. We're lucky here in that there are nine racecourses nearby so there's plenty of opportunity to go racing."
Importantly, as well as providing a fantastic day out, the event raised over £14,000 for organising charity Racing Welfare, who provide vital support to anyone working in or retired from horseracing. Regional welfare manager Adam Ferguson said: "We're so grateful to all of the trainers and sponsors who generously supported the event,  as well as the stable staff who got the yards and horses ready for visitors. The funds raised on the day will make a big difference to people working in the racing industry; last year we supported more than 200 people in Malton alone and these events play an important part in helping us to provide that support."